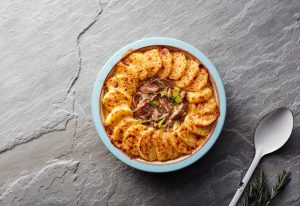 St David's Day (1 March) is celebrated annually in Wales as we pay homage to our patron saint through a variety of ways, including children wearing leeks or traditional Welsh dress through to holding eisteddfodau and enjoying culinary staples such as Welsh Lamb cawl, bara brith or rarebit.
Legend has it that David was born during a fierce storm in the year 500 AD on a clifftop in Pembrokeshire, and lived his entire life on a diet of water and leeks. Naturally, we wouldn't recommend such an austere diet for readers of our website, who are known for their discerning taste on all things food and drink. Moreover, we also know that PGI Welsh Lamb and PGI Welsh Beef not only taste a cut above, but are also packed with essential vitamins and minerals that are key to a healthy and balanced diet.
Thanks to our friends at Food and Drink Wales, we're marking this year's St David's Day by unveiling a  quintessentially Welsh recipe  that celebrates two icons of our nation's food: Welsh Lamb and laverbread. A delicious meal for a family of four, our Welsh Lamb with laverbread herb sauce is best enjoyed by dividing the racks into cutlets then dipping each cutlet into the laverbread and herb sauce and finally, the lemony crumbs.
While most readers will be aware that Welsh Lamb and Welsh Beef have been granted PGI status in recognition of the host of qualities that mark them out as unique compared to their competitors, it's also worth celebrating some of the other Welsh food and drink products that have also been bestowed with similar honours.
Welsh Laverbread (PDO)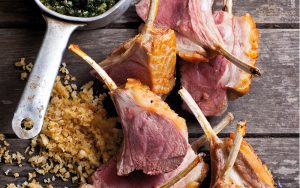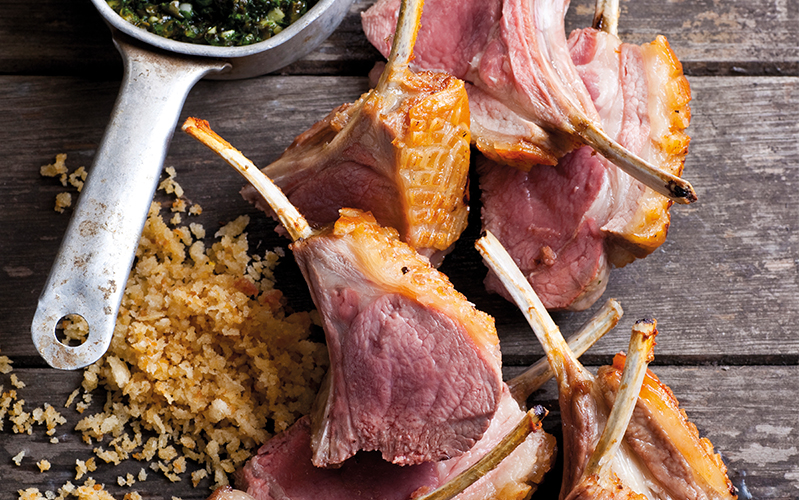 Famously described by Hollywood legend Richard Burton as "Welshman's caviar", Welsh Laverbread is rooted in history as a vital source of nutrition and was awarded PDO status in 2017 to celebrate its inherent ties to Welsh seascapes and communities.
A great accompaniment to fry-ups, it can also be paired with a host of Welsh Lamb dishes, including our special St David's Day recipe.
Anglesey Sea Salt / Halen Môn (PDO)
Enjoyed around the world by chefs and food lovers who marvel at the unique, flat crystalline flakes and clean taste of the Anglesey sea water, it's unspoiled by any of the bitterness caused by excess calcium which can occur in other salts.
Awarded PDO status in 2014, Anglesey Sea Salt / Halen Môn can help elevate any Welsh Lamb or Welsh Beef by simply seasoning the dish, such as with the Welsh Lamb cutlets with herb and garlic sauce or Featherblade (Flat Iron) Welsh Beef steak with chimichurri.
Pembrokeshire Early Potatoes (PGI)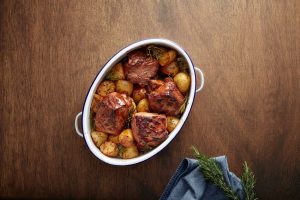 Awarded PGI status in 2014, Pembrokeshire Early Potatoes aren't just any old potatoes, but are grown in a little patch of south west Wales, using traditional methods and the natural warming effect of the sea, which allows for an earlier start to the growing season and results in potatoes with a strong, earthy aroma and a smooth, creamy texture.
Give them a try by cooking Matt Waldron's Welsh Beef rib-eye steak with rarebit mushroom topping or Balsamic glazed Welsh Lamb served with rosemary baby potatoes.
Traditional Welsh Caerphilly (PGI)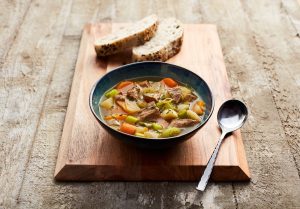 With a fascinating story spanning hundreds of years, the cheese is based on an unchanged recipe written down by Annie Evans in her notebook in 1907, but which probably dates back well into the 19th century. Boasting a consistent creamy texture, Traditional Welsh Caerphilly can only be made from cow's milk produced on Welsh farms, and is the sole native cheese of Wales.
Awarded PGI status in 2017, it could serve as a brilliant side for your St David's Day Traditional Welsh Lamb cawl.
Welsh Wine (PDO/PGI)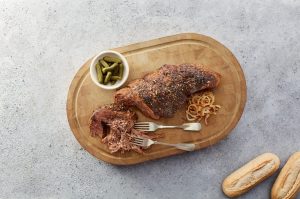 With a multitude of vineyards growing over 20 different grape varieties, Welsh Wine is truly blossoming. Holding a mixture of PGI and PDO status, the unique topography and landscape produces wine with a crisp acidity and strong aromatic flavours.
In terms of recipe pairings, it's true to say that there aren't many Welsh Lamb or Welsh Beef dishes that can't be enhanced with a small glass of Welsh Wine to help bring out the flavours!
Click here for a full list of Welsh produce with protected food name status.