It's here again! After a quieter Halloween than usual last year, we're sure the kids can't wait for some trick or treating action this weekend! Party bags at the ready – a bsuy night is forecasted!
But before the little ones head out on their sweet hunt, why not have some fang-tastic fun in the kitchen with some creepy cuisine – just check out our Halloween recipe ideas for kids. Your little monsters will love making these gruesome offerings.
Ditch the pumpkin soup and try carving some scary faces in some peppers before stuffing them with bolognese and rice for a frighteningly filling dinner, or try some mini kofta mummies for a spooky snack. Tasty, fun and easy to make, these little Welsh Beef treats are terrifyingly tempting and frightfully good! (Although you may now look at 'finger food' in a different light!).
Watch our resident chef Elwen show how to cook up this fearsome feast of Halloween food below.
Welsh Beef stuffed pepper lanterns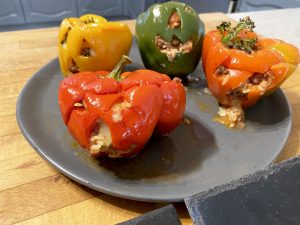 Welsh Beef witches' fingers and Welsh Beef mini kofta mummies