PGI Welsh Beef has a great depth of flavour and is known to buddy up quite nicely with horseradish and mustard. But did you know that beef has many other culinary companions that can add new layers of flavour, and when cooked it has a distinct umami flavour?  Let us introduce you to our BFFs (beef friendly flavours).
Simply spicy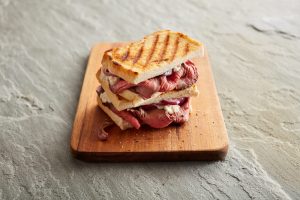 Without a doubt, no other ingredient complements the taste of beef quite like horseradish. Since the 16th century, we have enjoyed the sharpness of this root (from a jar or freshly grated) with our Sunday roast. Try our loaded grilled Welsh Beef sandwich with horseradish mayo for size.
Wasabi, the Asian cousin of horseradish, is often used as a condiment with sushi.  It's a spicy green paste and has a sour bite that cuts through the richness of beef dishes.
Love it or hate it, mustard is never far from a flavoursome beef burger and is delicious served with roast beef. Hot on its heels on the spice trail are peppercorns – a classic accompaniment to beef. Try Bryan Webb's Welsh Beef steak 'au poivre' – a culinary classic.
Marvellous marinades and heavenly herbs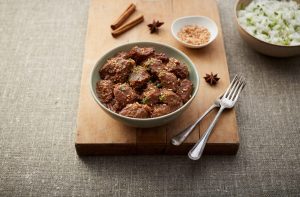 Marinades are an excellent way to add flavour and tenderise tougher cuts of meat. Oil, salt, and acid ingredients such as lemon or vinegar (optional) are the basics of a marinade.  You can add flavour (and get creative!) with herbs and spices.
Star anise is particularly delicious with beef, giving a subtly scented, liquorice-like flavour, often central to Chinese cooking.  Try it for yourself in our delicious Indonesian Welsh Beef rendang curry.
Ginger, garlic and onions are also great with beef and give a depth of flavour to curries and stir-frys.
Parsley is the main herb used in chimichurri, an Argentinean herby and spicy sauce that's ideal with steak. The fresh notes of the herb, along with the spice of the chillies, cut through the steak's fattiness.  Follow our recipe for Featherblade Welsh Beef steak with chimichurri and see for yourself.
Thyme is another herb that brings out the best in rich beef dishes, adding a new layer of flavour with its lemony characteristics.
Confident and creamy
Creamy and tangy blue cheese (like Roquefort and Stilton) offers fruity spice notes that go especially well with the bold flavours of steak.  Try it in the Migrating Chef's Welsh Beef chipotle steak sandwich with crushed avocados.
Another creamy companion is coconut milk, which is mostly used in South East Asian cuisine in curries and stews.
Classical arrangements
Red wine is a prime pairing for strong flavoured beef cuts. Bold wines (like Bordeaux) are an ideal match in terms of flavour, and the alcohol in wine combined with slow cooking breaks down the proteins in the meat during the cooking process, making it more tender.  Try our Moreish Welsh Beef short ribs in red wine and herbs.
While there are many exciting flavours to explore with beef, we can't overlook the humble floret of broccoli. This delicious (and healthy!) vegetable is equally as delicious with a Sunday roast as it is in a stir-fry.  And where would we be without the perfect combination of beef, mushrooms and thyme in our Welsh Beef Wellington?
PGI Welsh Beef owes its unique, distinctive flavour to the way it has been produced – to the highest standards possible. Often the taste of the beef depends on the animal itself – its diet and its breed, creating stronger flavours of meat. Take a look at our recipe finder page where you'll find lots of ingredients inspiration and advice for cooking with various cuts of beef.