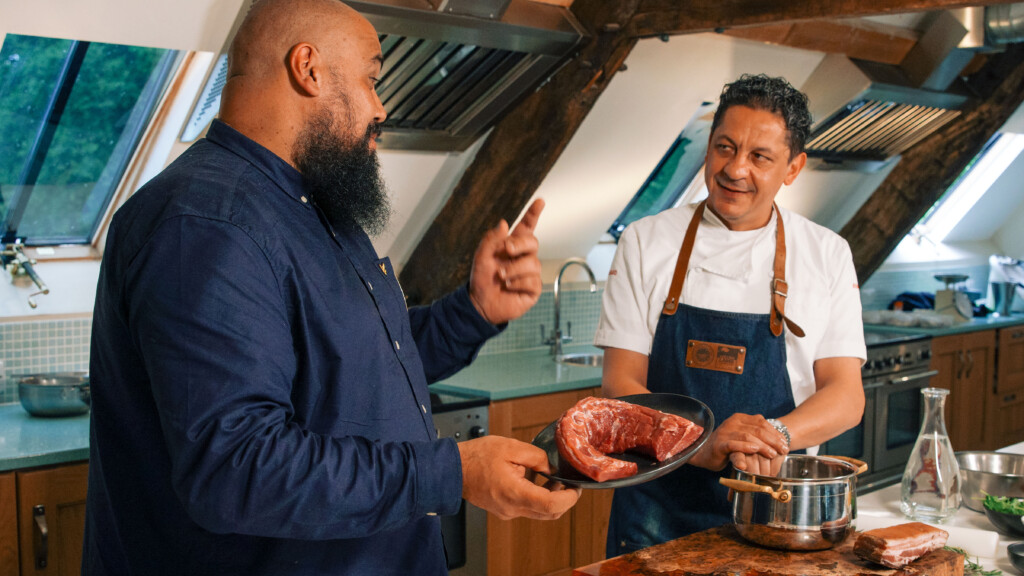 Recently unveiled as the new PGI Welsh Lamb campaign 'Lambassador' for 2022, top London TV chef Francesco Mazzei has been busy sharing his expertise on how to prepare and cook our lovely Welsh Lamb.
Speaking about why he chooses to serve Welsh Lamb at his restaurants, Francesco said:
"I am fascinated by Welsh Lamb and how the meat is so tender, so when I had the opportunity to see for myself how Welsh farmers look after their flocks, what the lambs eat and where they spend their day, it has made me appreciate it even more.

I love cooking with Welsh Lamb because of the flavour it brings to each dish and it is particularly tender. It is fantastic to know I have this quality product on my doorstep, but straight from the Welsh mountains. It is a great story to tell my customers and my chefs when I am at my restaurants in London."
Here are some top tips from the master himself, and don't forget to check out his previous recipes for us, such as his Welsh Lamb meatballs, fornarina style Welsh Lamb shoulder, Welsh Lamb ragout, Welsh Lamb ossobuco, Welsh Lamb breast stew, Welsh Lamb chop Milanese and mustard leg of Welsh Lamb.

Francesco's top tips with Welsh Lamb
How to spot quality lamb: when buying lamb, look out for meat that's more pink than red. Generally, this shows that the animal has been well looked after. Learn more in Francesco's pan-fried Welsh Lamb involtini.
How to sear lamb: searing is a great way to get initial colour on meat, as well as enhancing its flavour and locking in all those lovely juices. If using flour to coat the meat, do not use too much – a little dusting is plenty.
When searing cuts like shanks, you may notice a lot of fat in the pan. Do not worry as you can get rid of the excess fat at the end of cooking. I like to use this fat instead of butter to sear the meat as it gives that extra flavour. Learn more in Francesco's braised Welsh Lamb shank with risotto.
How to make lamb sausages: Calabrian style sausages need to age for two to three days. You can make your own with Welsh Lamb. I use a bit of pork mince to make the sausage texture softer, but if you do not want to use pork, you can soak some white bread in white wine or milk and you use that instead. You could also make meatballs, or a ragù, out of the sausage meat. Learn more in Francesco's Welsh Lamb sausage with polenta and Tuscan cannellini beans.
How to cook lamb at a low temperature: Welsh Lamb is particularly tender and I like to cook shoulder on a low heat for a few hours. Cooking the meat without a lid also gives amazing charred results, adding a depth of colour, caramelisation and an incredible flavour. Learn more in Francesco's pulled Welsh Lamb piadina mozzarella.
Perfect ingredients with lamb: Welsh Lamb goes very well with many side dishes. I like to serve it with creamy polenta, mashed potato, and with risotto. However, make sure you take your time making risotto, as a rule it takes 18-20 minutes, and the stock should be boiling hot. In Italy, we finish the risotto with butter, Grana Padano cheese, and it is what we call 'mantecare' – a certain creaminess.
Dressings are also good accompaniments with Welsh Lamb, particularly with zesty, punchy flavours. In Italy, gremolada is what we put on top of our ossobuco. It finishes the lamb dish nicely and will just lift it a little and cut through a little of the richness. You can view all Francesco's recipes on his page celebrating Welsh Lamb – the Italian way.
Here's Francesco's talking about his love affair with Welsh Lamb in his own words…