Halloween may appear eerily quiet this year – outdoors, at least.  No troupes of ghosts, witches and black cats parading the streets. No little gnarly knuckles rapping on front doors, while grown-ups scrabble around for chocolate and sweets.
But fear not! You can have some fang-tastic fun indoors with some creepy cuisine – just check out our Halloween recipe ideas for kids. Your little monsters will love making these gruesome offerings.
Tasty, fun and easy to make, these little Welsh Beef treats are terrifyingly tempting and frightfully good! (Although you may now look at 'finger food' in a different light!).
Our resident chef Elwen shows you how to cook up this fearsome feast of Halloween food below.
Welsh Beef stuffed pepper lanterns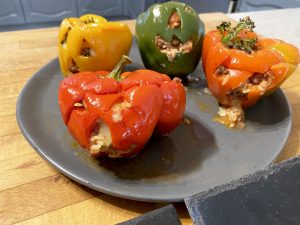 Welsh Beef witches' fingers and Welsh Beef mini kofta mummies