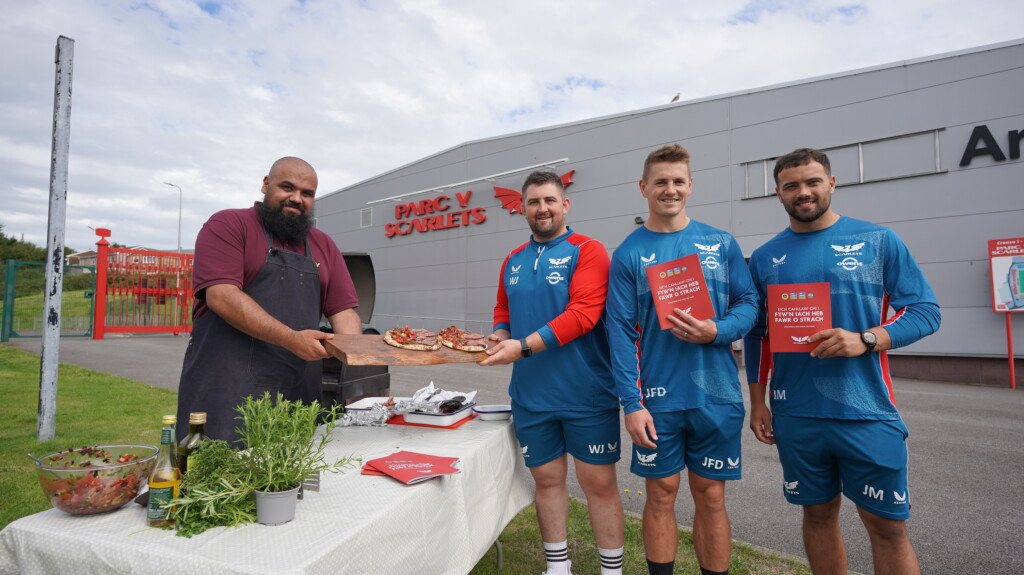 Has your little one got dreams of playing rugby professionally, scoring a try at Parc y Scarlets or winning a Wales cap? Well, we've been working with the academy staff at the Scarlets and it turns out the secret to making dreams a reality is regular exercise and a nutritious, balanced diet.
For weeks now, our team have been working with the strength and conditioning team at the Scarlets to put together a comprehensive fitness and nutrition guide for young people in Wales. The result is a booklet full of healthy recipes and advice on staying fit and active, whilst highlighting the many nutritional benefits of a balanced diet with locally-sourced Welsh Lamb and Welsh Beef.
To launch the booklet we invited TV chef and BBQ maestro Chris 'Flamebaster' Roberts along to a special event at Parc y Scarlets, where he cooked up a storm for some of the players as the region continues its support for Welsh farmers and rural communities.
One of those lucky enough to try Chris's healthy Welsh Beef sandwich was Scarlets and Wales prop Wyn Jones, who was brought up on a cattle and sheep farm and knows first-hand the passion and hard work that goes into producing Welsh Lamb and Welsh Beef. Speaking about the importance of good nutrition while supporting the Welsh agricultural industry, he said:
"As a Welsh athlete, Welsh Beef is important to me on two levels. Not only is it an excellent source of protein, packed with many nutritional benefits essential for my recovery, but coming from a farming background, I also appreciate how and where it is farmed.

"It is good to know that Welsh Beef and Welsh Lamb are bred here, local to Llanelli and to myself in Llandovery. Knowing that I am eating a local, natural, quality product that has been cared for, with plenty of fresh air and grass-fed, is something quite special."
Chris was in great spirits as always and was quick to sing Welsh Beef's praise:
"The great thing about Welsh Beef is that it does not have to be loaded with rich sauces to taste good. Welsh Beef steak, such as sirloin, is amazing simply lightly seasoned and grilled and served with a punchy salad or salsa – it is also phenomenal in a quick and healthy stir-fry.
So if you're in the Llanelli area or going to watch a match at Parc y Scarlets soon, be sure to pick up your copy free of charge from the Scarlets club shop, or if you're too impatient to wait you can download a copy now here.