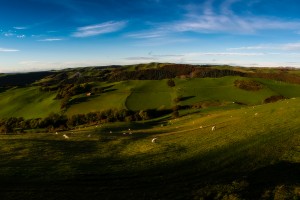 April is an ideal time to get out in the great outdoors and explore the world of foraging.
While foraging has been a means of human survival for millennia, today more people are making the most of nature's larder, with plentiful pickings from hedgerows, woodlands and seashores.
Foraging is a great way to discover new flavours (and it's free!) but you should always forage responsibly, and do your research thoroughly beforehand. After all, some edible fungi and vegetation found in the wild can have similar characteristics to poisonous varieties.
Wild garlic is one of the easiest wild foods to identify with its star-like white flowers and long, pointed, vibrant green leaves and it has a pungent garlicky aroma. It grows in shady, damp environments such as woodland. But be aware – from a distance it can look like lily of the valley, which has bell–like flowers and is poisonous, so not to be confused!
The leaves and flowers of wild garlic are delicious in sandwiches, soups, salads and best of all, they go well with our natural Welsh Lamb and Welsh Beef. Take a look at our chef's table for inspiration and watch some familiar faces cook with this garlicky delicacy!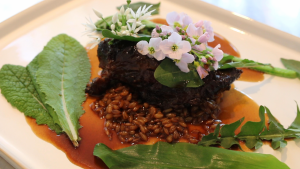 Matt Powell of Fishing and Foraging Wales, who features on our chef's table, lives and breathes wild food.  With the beautiful Pembrokeshire coastline on his doorstep and with an extensive knowledge of foraging, watch him make some stunning dishes such as leg of Welsh Lamb with foraged hedgerow greens and a lamb reduction sauce and slow cooked Welsh Beef shin with bio-dynamic rye grains.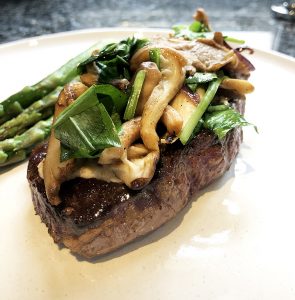 Bryn Williams of Bryn @ Porth Eirias / Odette's / Somerset House also shows us the wild side of Welsh Beef sirloin with asparagus, mushrooms, onions and wild garlic. Bryn's top tip – wilt the wild garlic in the residual heat from the pan and it will keep its lovely green colour.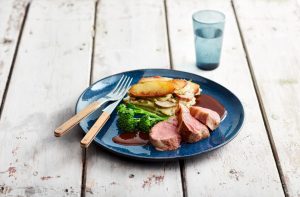 Don't forget that wild garlic flowers are also edible. Hywel Griffith of Beach House Restaurant, Oxwich uses them as well as the leaves in his Welsh Lamb rack and neck with dauphinoise potatoes recipe. This nice and simple, creamy dish is delicious served with seasonal greens. The cooking juices make a delicious sauce, but Hywel suggests you resist pouring it all over the dish as you'll want to show off the beautifully cooked lamb!
Another foraging feat is sea leek.  Sea leeks are easy to identify as they look a lot like garden leeks, only slimmer, and smell like onions! Also known as wild leeks, they like to grow in hedgerows near the seaside where the ground is quite sandy or stony.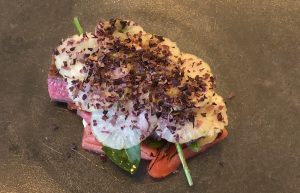 Stephen Stevens of Sosban and The Old Butchers uses brined sea leeks in his Welsh Beef wagyu, tomatoes, green strawberry and charcoal mayonnaise recipe. The sea leeks in the video were brined for two months, but brining them for at least a week should do the trick! If you can't find sea leeks, don't miss out on this delicious recipe as you can use baby leeks or capers instead.
So if you're lucky enough to discover these delicious wild finds on your seaside or woodland walk, please remember to forage responsibly. Do your research before picking and using, and always leave plenty in the ground to continue growing.